January 2016 Mosquito Lagoon/ New Smyrna Beach Fishing Report

Januarys conditions were far from a traditional winter feel till the later half of the month but it took some time for the fish to adjust.  Early in the month in Mosquito Lagoon and New Smyrna Beach we experienced days in the 80's and were soon greeted by multiple cold fronts and strong ocean swells pushing clean water through our inlet and dropping water and air temperatures dramatically.  Prior to the fronts the redfish could be found cruising the shore lines with their backs and tails exposed making for some easy targets and over the shallow grass tailing in small groups searching for shrimp and crabs. Once the cold air and water temps set in the fish stayed down taking to the sand holes and cruising the sand bottom edges and shorelines and long well placed casts were a must since the water was gin clear. Big trout were seeking refuge in the 2-3ft range over muddy bottom and in large sand holes in big groups. Presentations had to he be really long for these fish and in most cases we floated into them before ever seeing them and never getting the shot. The days I fished live baits with clients live shrimp was the producer when sight fishing and when the wind picked up we used live finger mullet which are both great winter time baits. While searching for fish we blind casted soft plastic lures rigged weedless in the sand holes and caught both redfish and trout. Tailing and cruising redfish were eat DOA Lures 3″ in natural colors and Zman baits 4″ paddle tails in natural mullet colors. Black drum have also been popping up in a few places in schools on the colder days and singled out a bit tailing in the shallow grass or laying in sand spots. When presenting either live bait or lure its crucial to move it very slow and not move it erratically and nearly crawl the baits on the bottom in front of the fish and in some cases right passed their nose. If you find black drum and they are moving around a lot and seem un easy its very hard to get them to eat anything. For best results find relaxed tailing, slow cruising or laid up fish. Fly fishing this month has been tough some days and great others while figuring out the adjustments of the fish around the weather and water clarity. Water clarity went from not so good to super clean in a mater of days and we went from feeding fish 10ft away to spooking fish 50-60ft away with a cast. Adjusting leader length and tippet size was a must to get the hook ups. Better success in the clear water came from finding fish over sand around grassy areas where the fly was more disguised rather then bare bottom areas where the fish were seeing everything no mater the lead or the distance of the cast. Hot flies this month for redfish and seatrout were small clousers with tan and pink buck tail weighted with large bead chain on a #4 hook, spoon flies, natural shrimp patterns with weed guards also on #4 hooks, and crab patterns in light to natural colors with different weights depending on the depth and wind. Depending on how many more cold fronts we get it will be hard to dictate the patterns to come. As I am typing this its early February and its been in the upper 70's for over a week with strong south winds pushing dirty water from the south lagoons north and we also had 2-3 days of solid rain brining the water levels back up. This week we will be impacted with three separate cold fronts and high winds that will confuse the fish once again but get them very fired up once they've adapted. The water will drop again with the high north winds and also clean up dramatically. Here's a look back at some of the nice catches over the month of January and also my wife Miranda's first redfish on fly to round out the month.
Experienced a few foggy days in January that stayed super thick through most of the mornings and made navigating a challenge. Had my guest Christoph and his friends and co workers from overseas join me for a short morning trip and we kept the boats rides to a minimum do to the fog. They all caught their first redfish ever and then some and lost a few as well.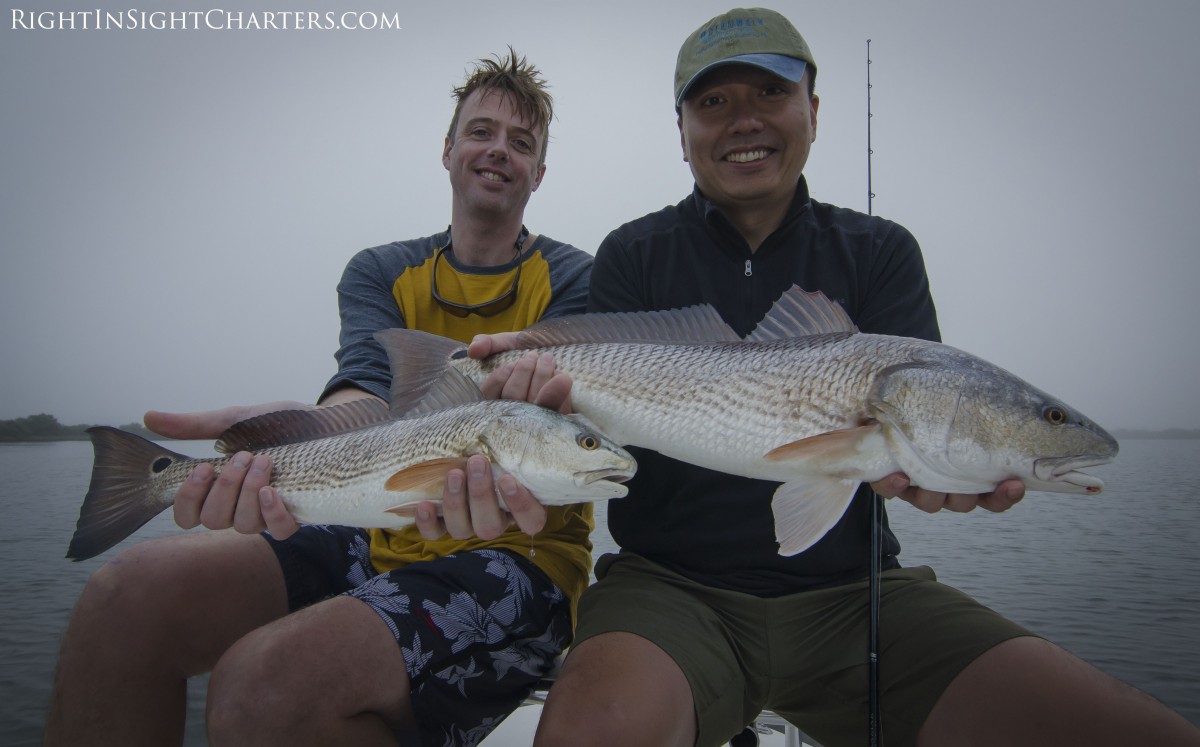 Ken was in town for a business conference in Orlando and joined me for a few hours of catching redfish in Mosquito Lagoon and NewSmyrna Beach backcountry. These fish were eating aggressively on the shorelines and over the sand bottom in small groups and singles catching 12-15 redfish from 4-6lbs on live shrimp and finger mullet.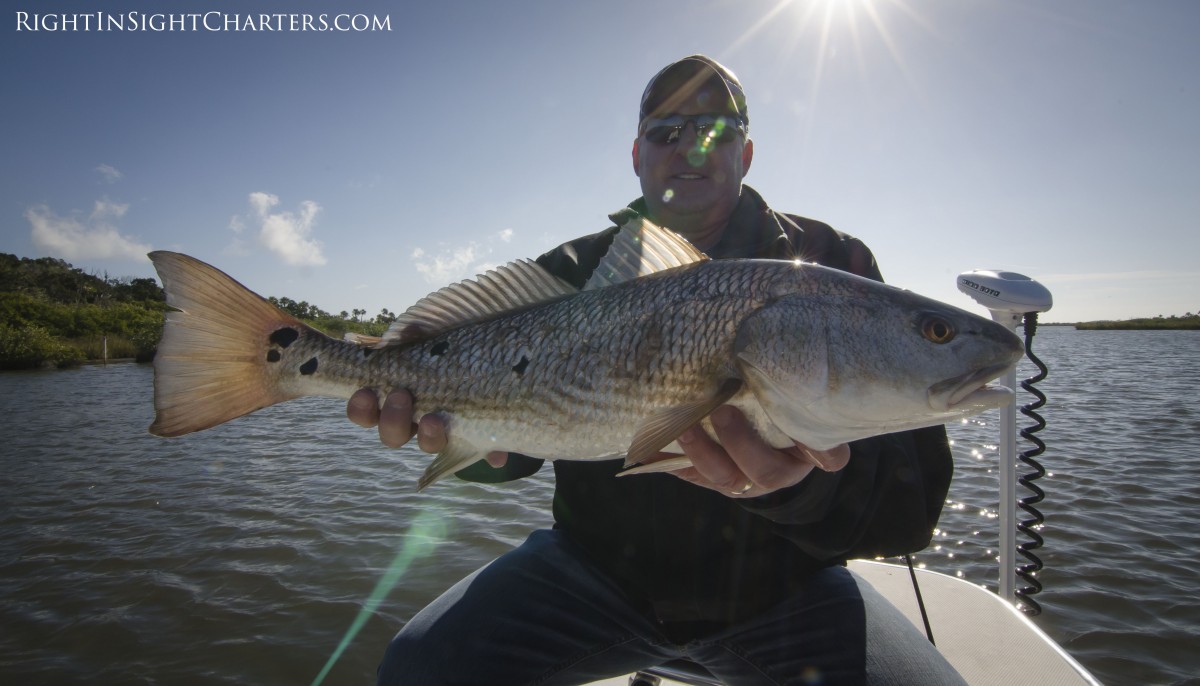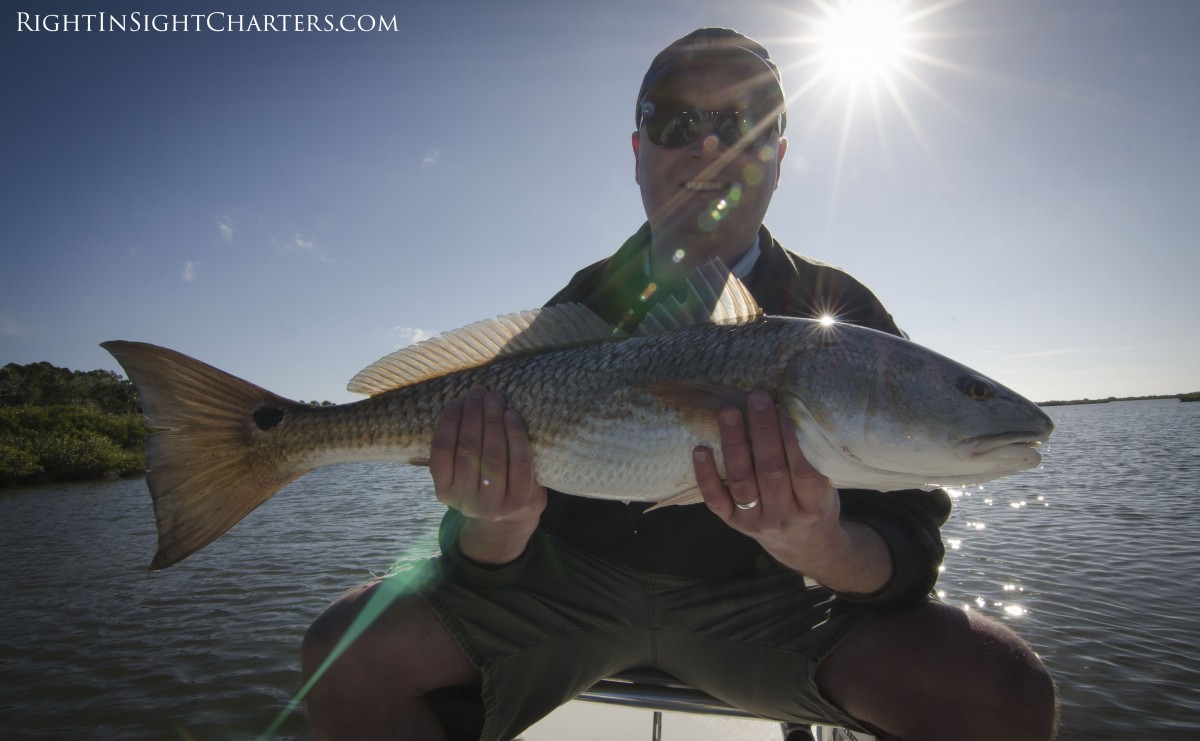 David from TX joined me while in town for business on one of the coldest days this year which felt like mid 20's with the wind chill. Dave is new to fly fishing and needed some instruction through the day and his cast continued to improve. The wind was up but the sun was out making for some great sight fishing but the shots had to be right on. The fish were easy to see mid day and Dave hooked and landed his first redfish on fly.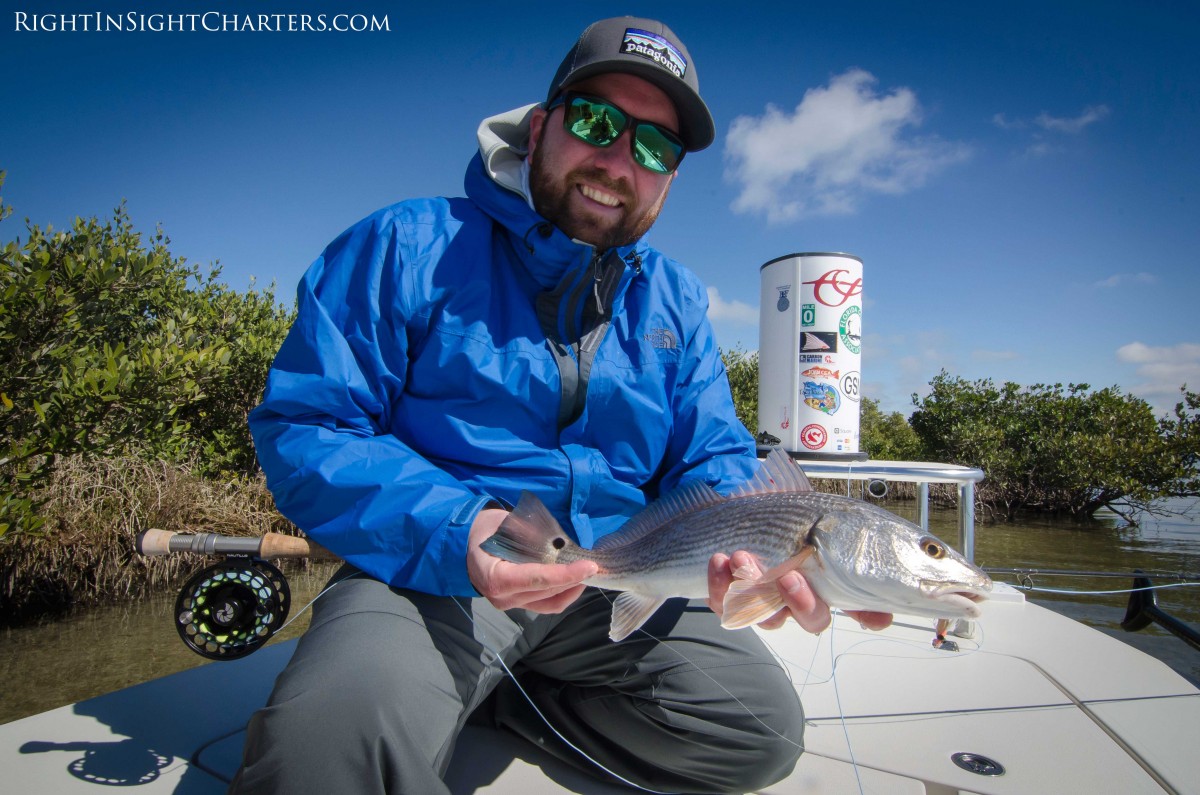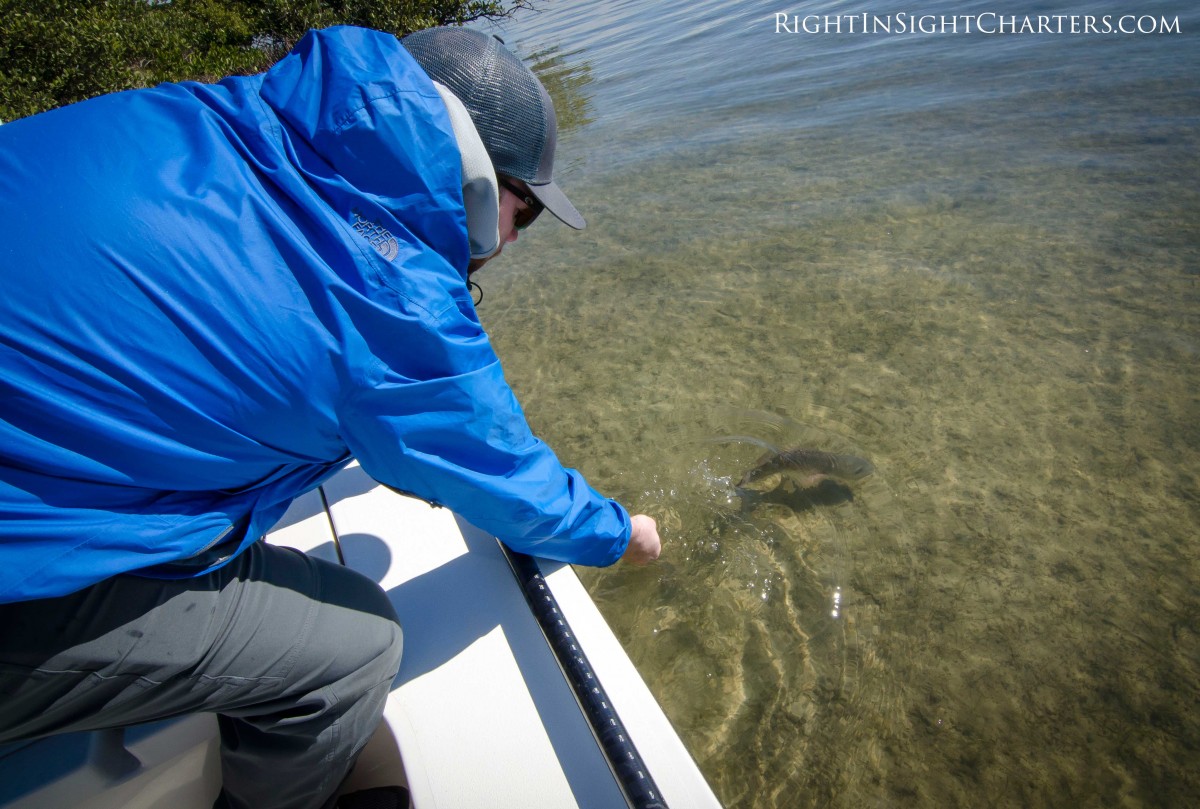 Fished a day with a good friend and regular fly client Steve from FL. We opted for a later start to let the sun come up and get the fish moving. We struggled a bit to find fish up shallow in places where they were the day prior and moved a round quite a bit dodging other boaters as well. We caught 4 redfish to round out the trip 3 which were scattered in different areas and caught a few on a small crab pattern and two on a spoon fly.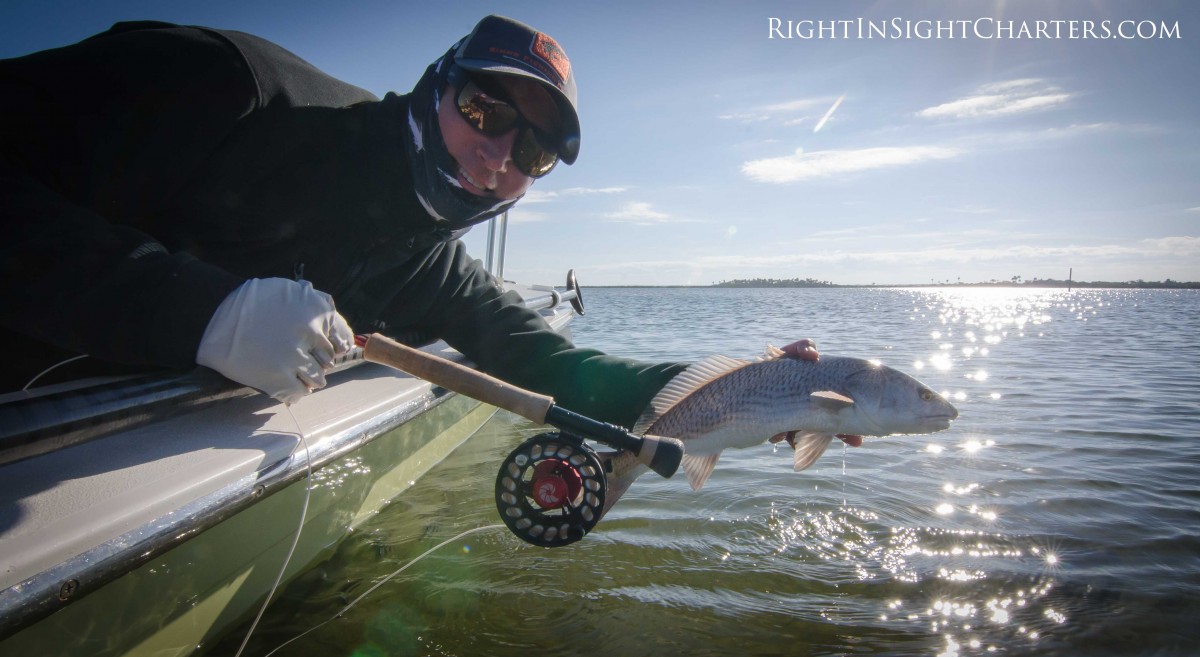 The last spot we fished was loaded with big trout and upper slot and over size redfish but the sun was dropping and it was hard to see them to we got really close to them. we managed to get an angle on a fish that was laying still….Steve had trouble seeing him so I told him where to put the fly and it was a perfect cast…as the spoon came wobbling in sight to the redfish he pounced on it without hesitation. It was a nice fish and a great fight on Steve's 6wt to finish the trip.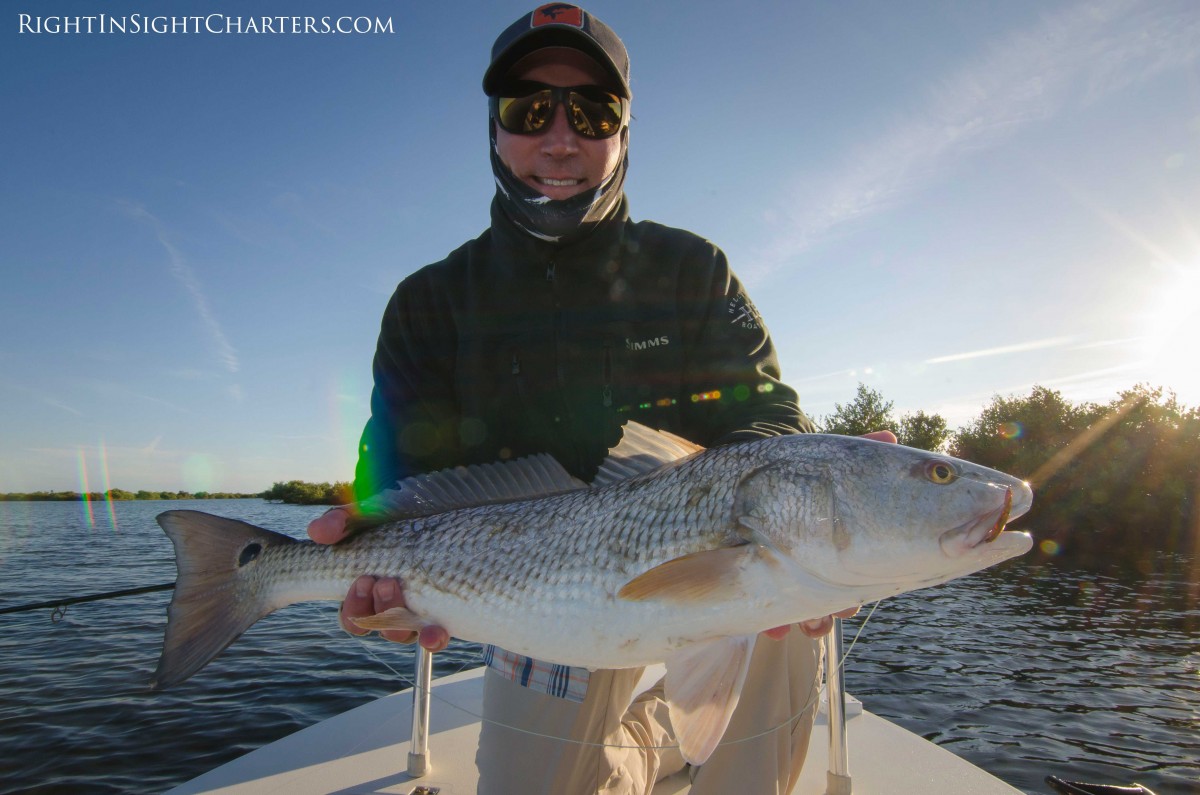 The last day of the month fell on a Sunday and me and my Wife Miranda took our kids to the Art Walk in New Smyrna Beach. After the Art Festival we had lunch the Half Wall on Canal St. in down town New Smyrna Beach. At the end of lunch my wife joked about going out on the boat to fly fish and taking the kids to grandma's. It was nearly 2:30pm and there was 0 wind with a light blanket of cloud cover. We loaded the boat dropped the kids off and we were in the water just after 3pm. We were on a mission to get my wife her first redfish on fly a rod although she has hooked some in the past she had never landed one. Her casting has gotten a lot better and her ability to see fish is just as good as mine at times. We both had high expectations to see redfish tails on the slicked surface of the Mosquito Lagoon. That was not the case we only saw a few brief tails then the fish would move off without warning. Out of no where she starts to cast…she spots a fish on the bottom only 20ft out at 11 o'clock facing us…"never a good angle".  She made some good shots but the were off to the side of the fish a little to much, all of a sudden the fish turns to the left a bit and I have her recast and she lays the shot perfect. I told here just to slowly crawl the crab fly in his path and moments later we could see the fishes gills flare out and eat the fly. I twas hard to tell the size of the fish at this point due to the depth we were in but she was into her backing in seconds! After a few good runs we got the fish boat side and it was a good one and it gave up after exerting most of its energy. To watch that all come together from the back of the boat and to see her land her first redfish on fly is a memory I will never forget and I look forward to many more these with her! Congrats Miranda on one hell of a redfish!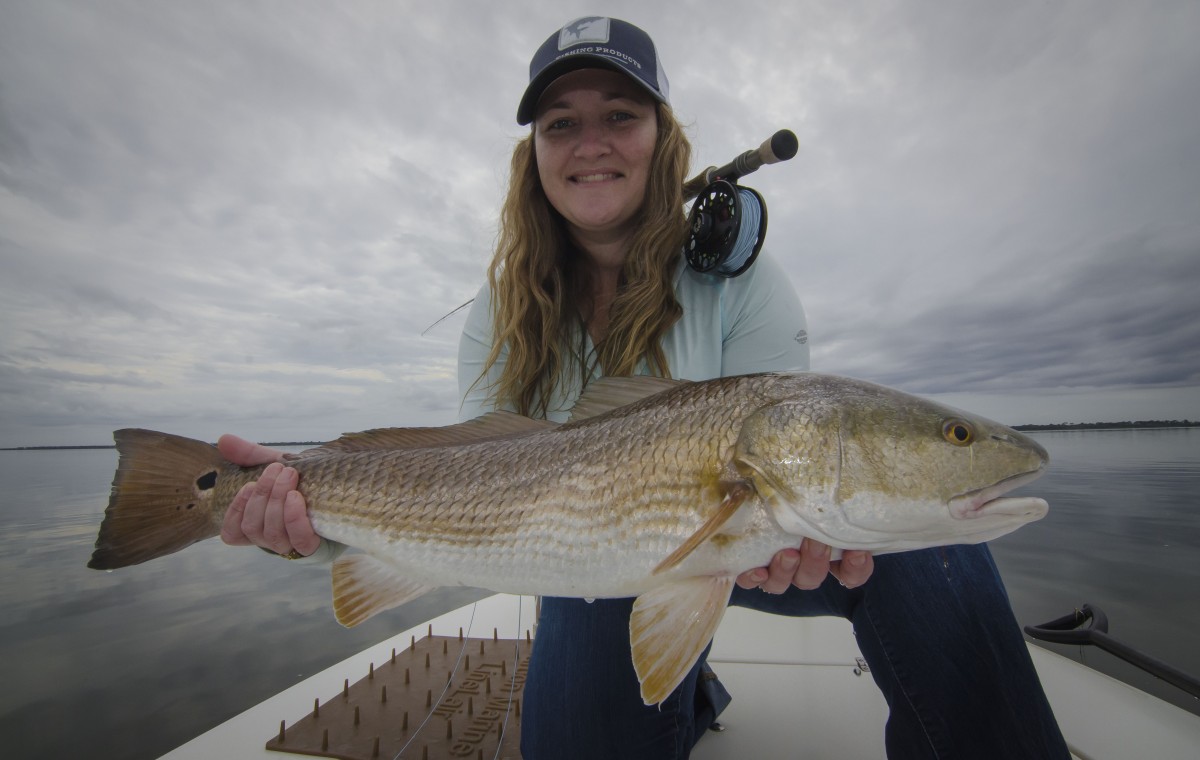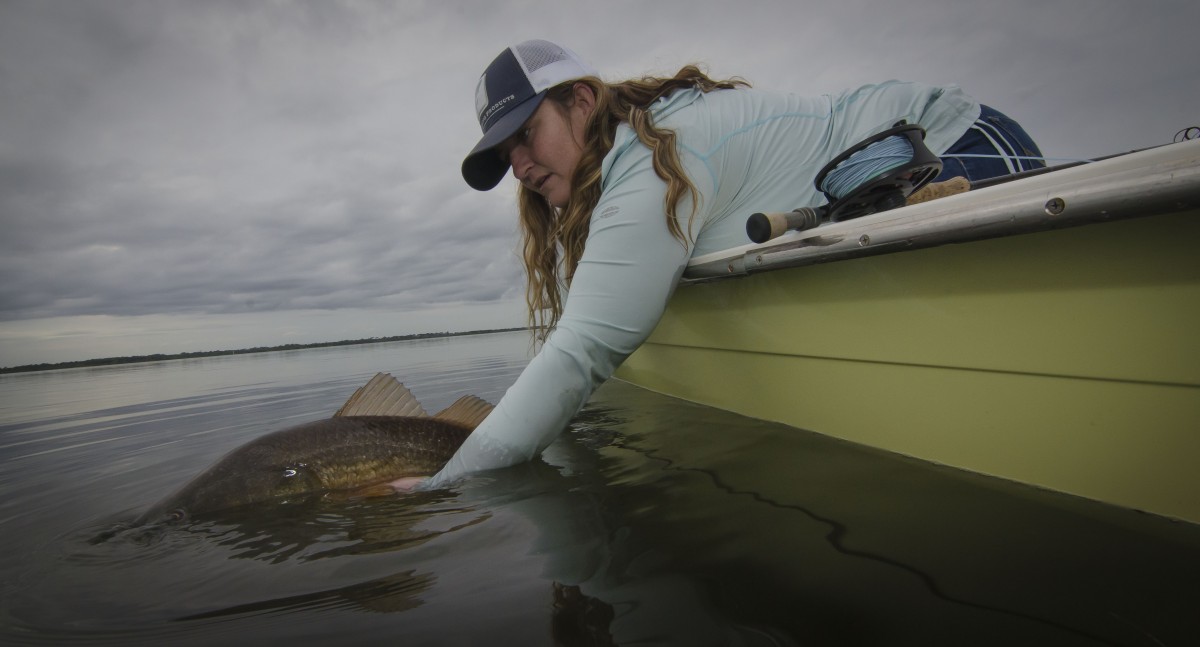 The sight fishing will only continue to get better over the next few months with each passing cold front. Check your calendars now to book a day and if I'm already booked I will make sure you are put with a great guide in our area. Also if visiting or you live in the area make sure to check out some of our local Fly Fishing and Light Tackle Shops, Orlando Outfitters located in Orlando-New Smyrna Beach Outfitters located in New Smyrna Beach-Harry Goodes Outdoor Shop located in Melbourne. Thanks for reading and look forward to fishing with you!
Thanks
Capt. Justin Price
Right in Sight Charters
Fly Fishing & Light Tackle Fishing Charters
Mosquito Lagoon-Indian River Lagoon-New Smyrna Beach
Banana River-No Motor Zone
www.rightinsightcharters.com
386-566-4687