December 2015 Mosquito Lagoon-Sight Fishing Report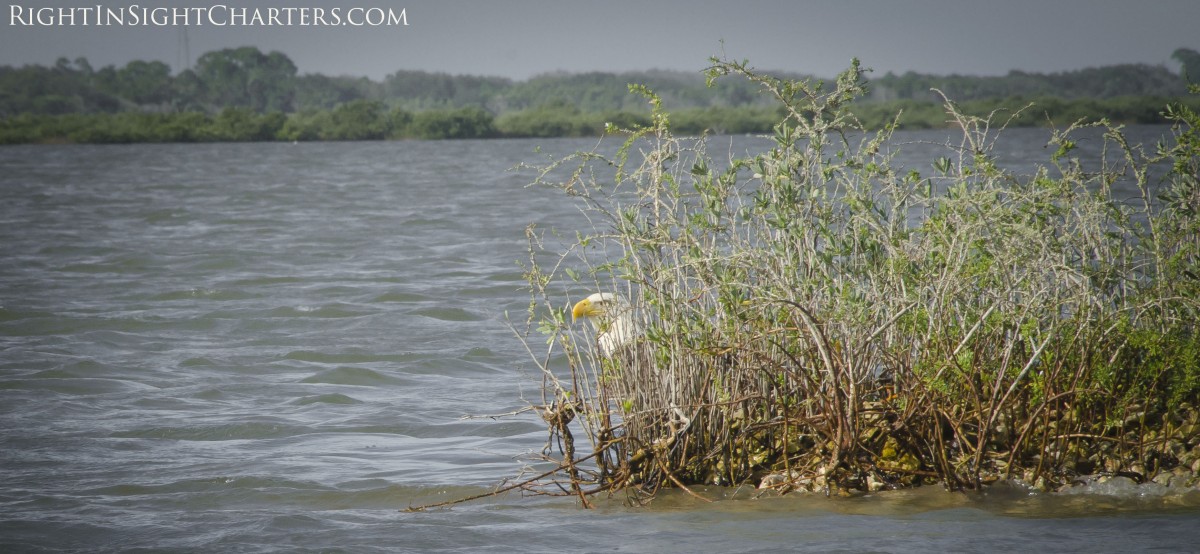 The conditions remained warm through the month of December and we experienced one of the hottest Christmas Holidays that I can remember.  The fish were definitely in a transition phase in the Mosquito Lagoon and Indian River Lagoon and with remaining high water it made some days pretty tough. Redfish remained scattered over the shallow grass and could be found tailing just under the surface when the sun allowed resulting in some great sight casting.  Some mornings small pods of redfish could be found tailing and chasing shrimp out of the water and when the winds were calm it could be seen from a distance. This time of the year usually when the water temps cool the baitfish seek deeper water and leaving the shallows with redfish mainly feeding on shrimp and crabs but the waters stayed warm which left many of the mullet present gave way to a buffet for the redfish and seatrout. The days I used live baits shrimp were the go to wether casting in front of tails, sand holes, or to single fish it was producing and will continue through spring when the pinfish return. Big gator trout will take a live shrimp as well but would much prefer a live finger mullet swimming on the surface or a top water plug. Top water plugs are effective for big trout but when fishing an area with concentrated fish you may only get a few fish before disturbing them all where fishing with a live finger mullet can be more productive and is a more subtle approach which will produce better numbers. Soft plastics lures are producing as well such as DOA Lures 3″shrimp, 3″ paddle tails rigged weedless in natural colors and adjusting depending on water clarity….darker plastics in the darker water and lighter in the clear water. Fly fishing this month was good and when the fish were found they ate the flies which is always a bonus. Fly patterns that were fooling the fish were shrimp in natural colors, crab patterns, gurgler surface flies early and on cloudy days, and spoon flies. These patterns will fluctuate a bit depending on how consistent the cold fronts are but should continue you to work through early spring.
Some days we were blessed with light winds and clear skies and one of my regular fly anglers Steve from FL. We started later in the morning letting the sun come up so we could get the shots. Steve managed a few nice fish to end the year prior to spending the Holidays in the Bahamas chasing bonefish.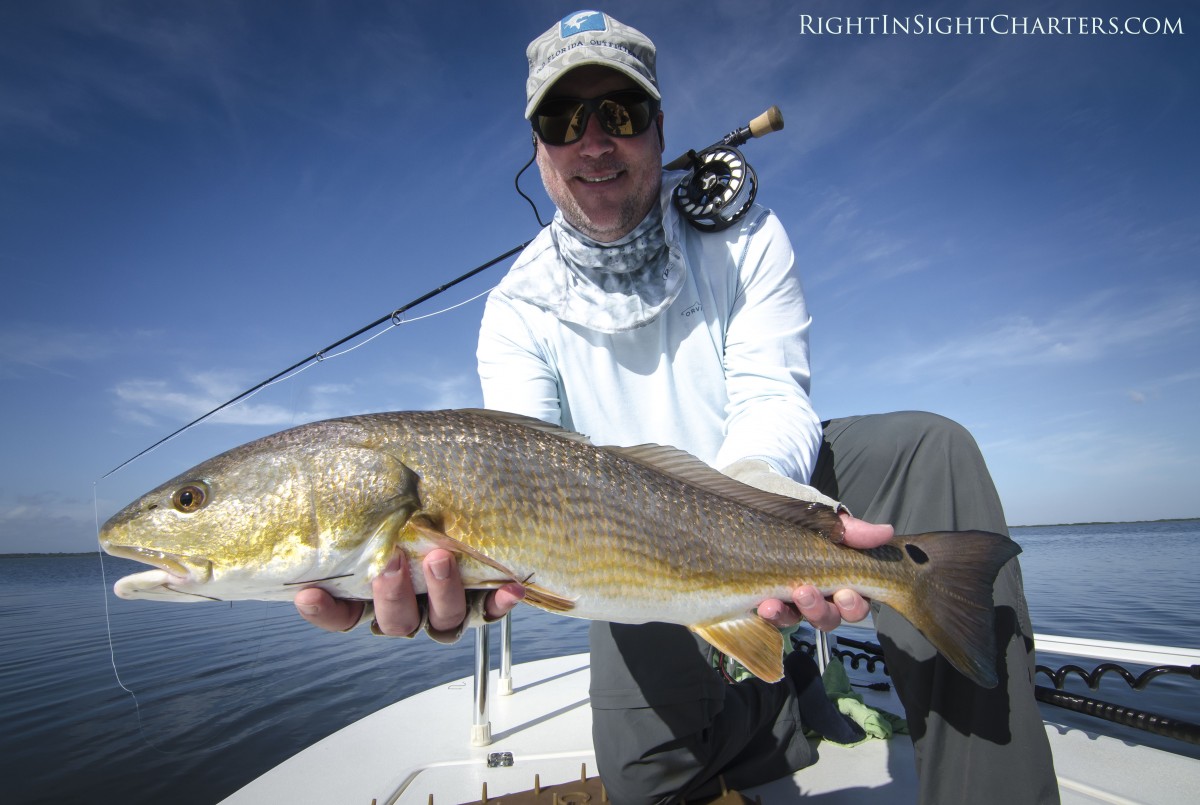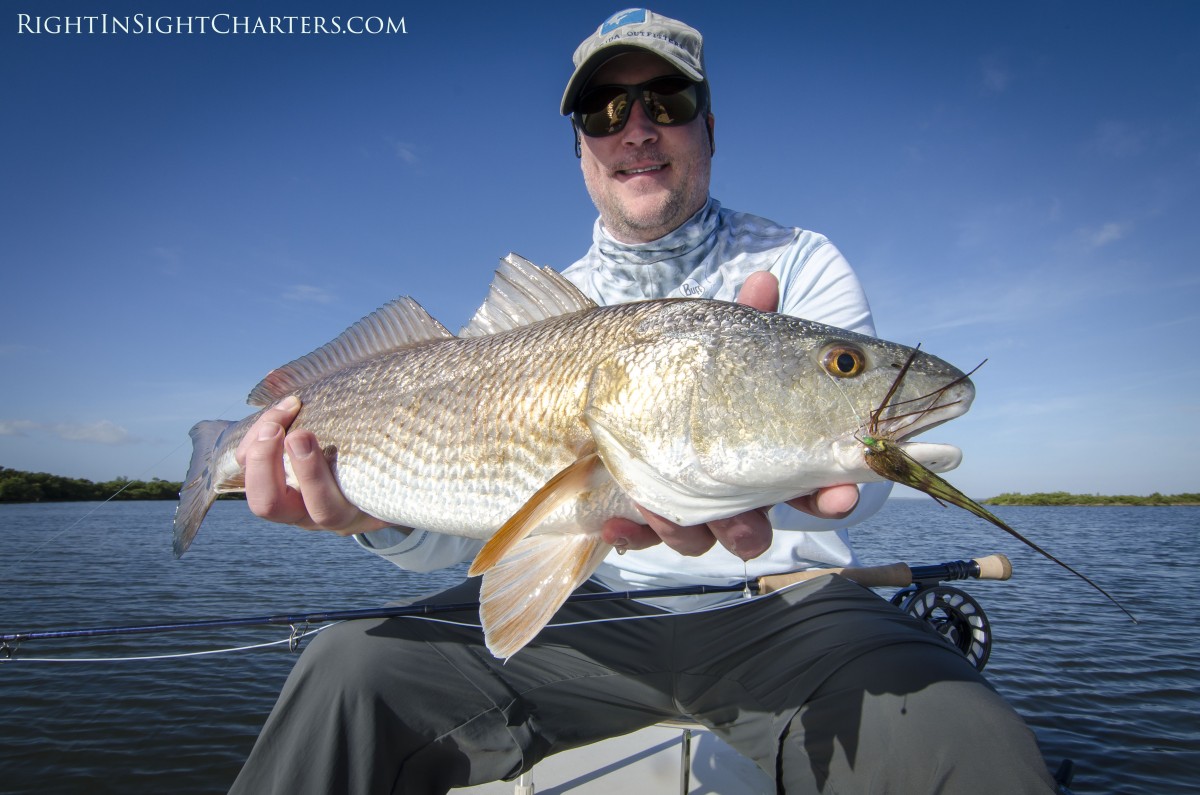 Kevin a repeat fly angler from AZ joined me for a cloudy and breezy day. We covered a lot of water prior to getting our first shot but he made it count. We spotted a redfish coming down the bank feeding on small baitfish so Kevin made the shot leading the fish with the fly…as the fish approached Kevin stripped and popped the gurgler very soft on the surface and the fish charged it and exploded on the fly giving way to an immediate hook set.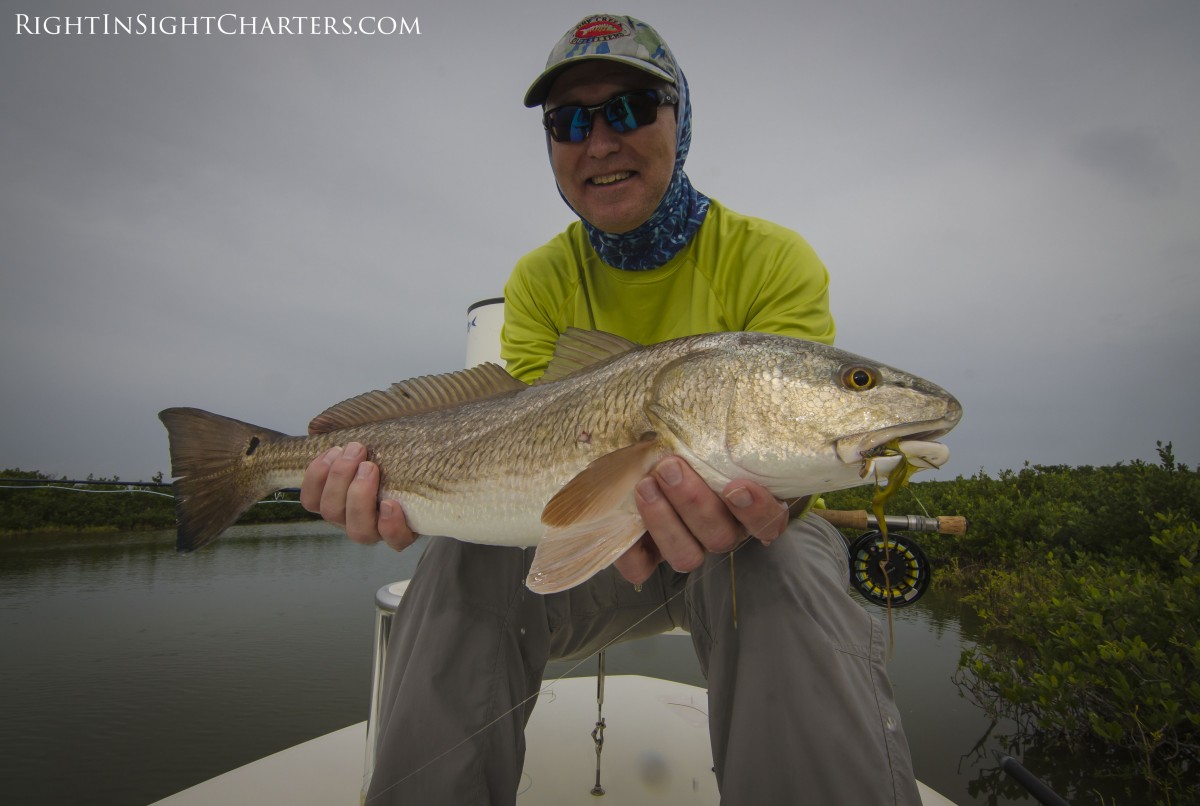 It was a while before our next real shot with the solid clouds. The fish were just not showing up top and we floated into quite a few without seeing them. After battling with the winds most of the morning I opted to search some small narrow areas out of the wind in hopes of seeing a few fish. It wasn't long before seeing our first fish but even so the clouds still made it tough not being them till the last minute. We  had a number of shots with no success and as we were leaving the creeks we started to move fish. Over the flat I noticed some heavy movement so I staked out and waited for a sign. We a few fish tail doing head stands and flopping over, so we moved into range. Clouds were still an issue but we managed to track a fish as his tail broke the surface ever so gently. Kevin dropped a crab fly in his sights and convinced the fish to eat and it was a good one close to 10lbs if I were to guess.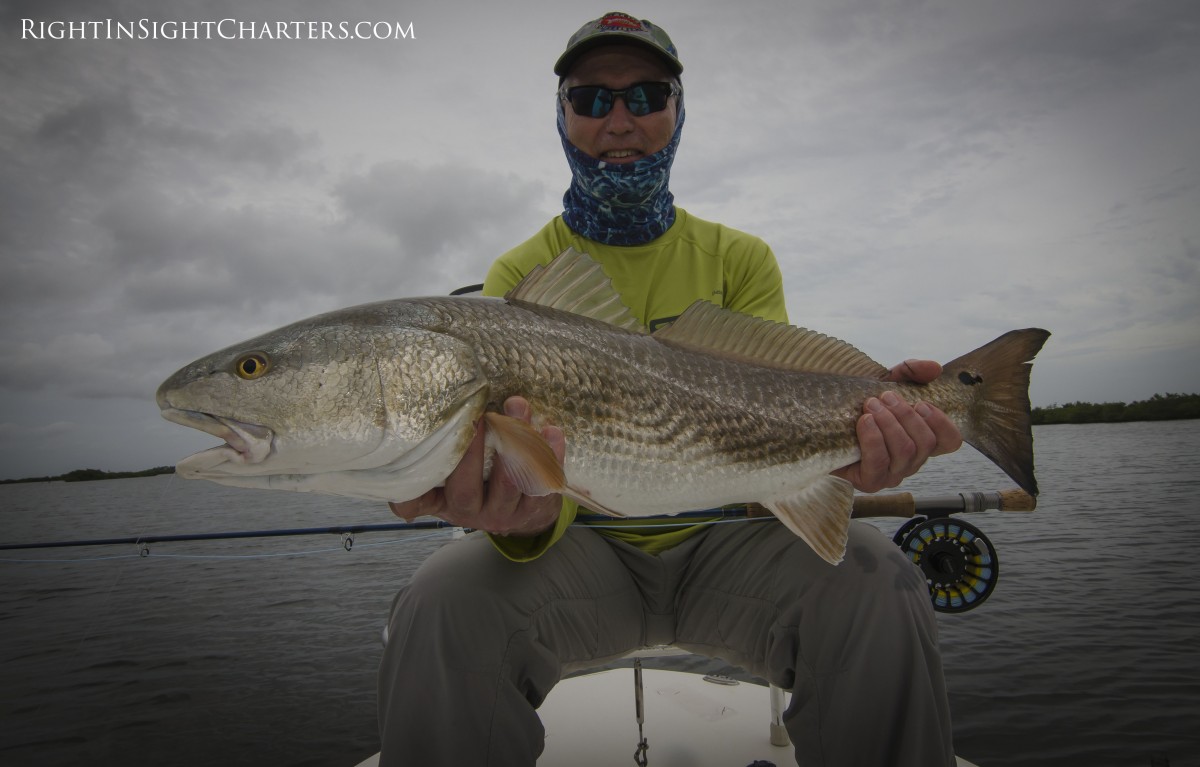 Had a short morning trip with Kesley a regular fly angler from CA. We had high hopes for the morning finding a very happy school of redfish tailing very happy….even after Kesley fed one a crab fly the fish continued tailing without any concern of our presence. After landing the one we immediately got back on the group and after a few shots I told Kesley to pick up her line and was going to tell her to move the cast not knowing a fish was tracking the fly only to blow out the whole group not to be seen again. Still a success landing one redfish in the short time on the water before it got crowded.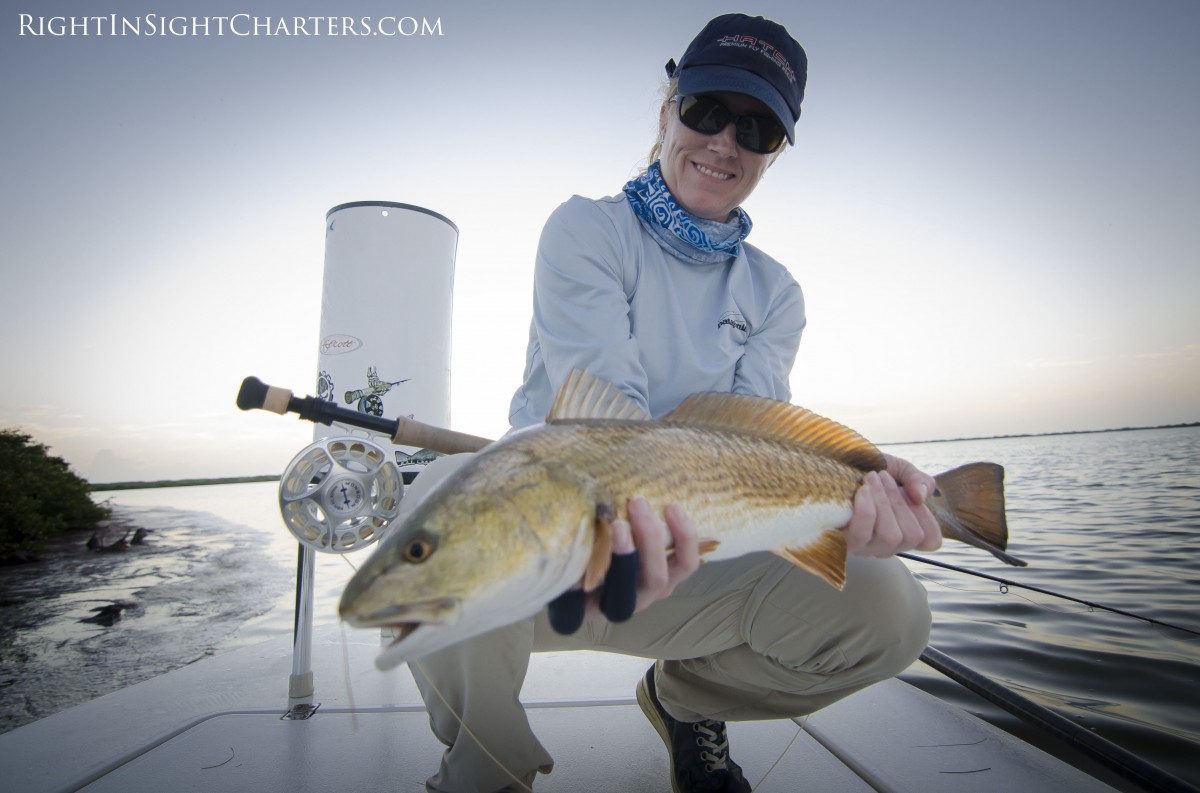 Chris a reguler client from TN joined me with his daughters for a day on Mosquito Lagoon. We started out on some pods of tailing redfish that were feeding on shrimp and forcing shrimp to the surface and seagulls were diving down eating the shrimp making it very easy to follow the groups. They each caught a few nice redfish.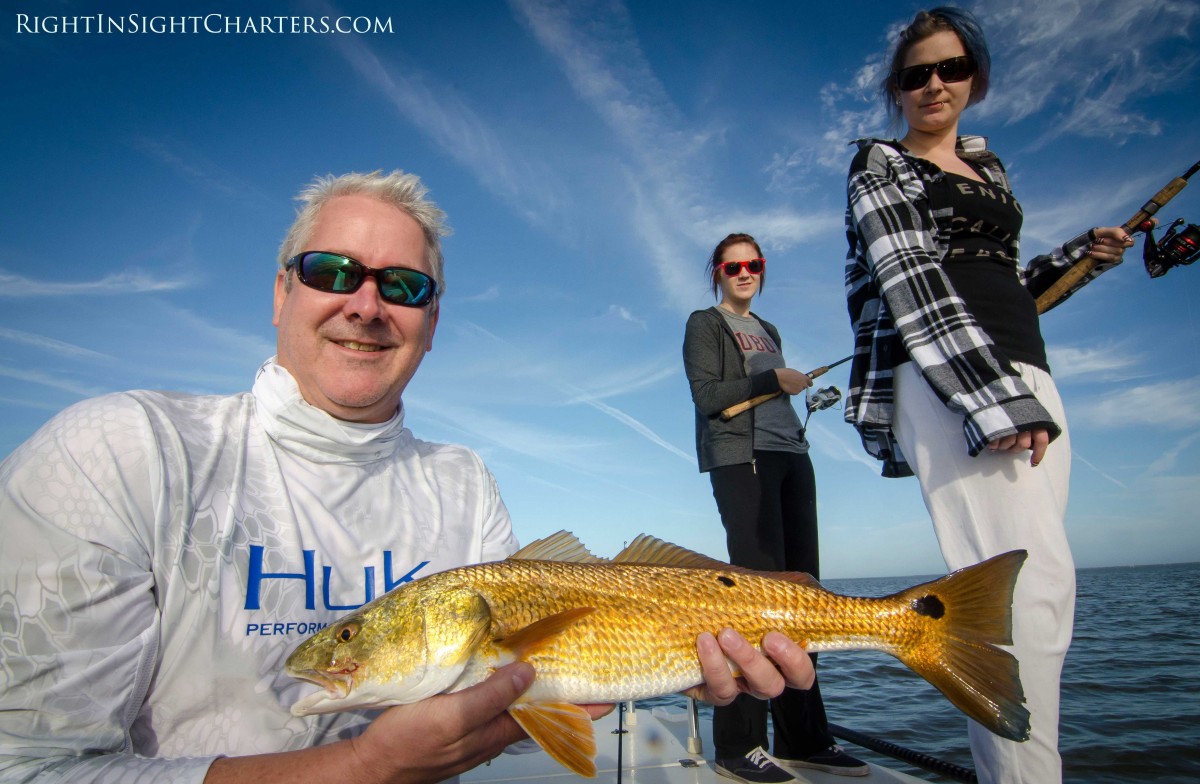 Ron from Canada was surprised with a charter with me from his wife. The conditions were nice and Ron was pumped to catch his first redfish ever and maybe a nice trout. We started out looking for the seagulls feeding to find the fish and only after a few minutes we did and Ron hooked his first redfish of the day and his life.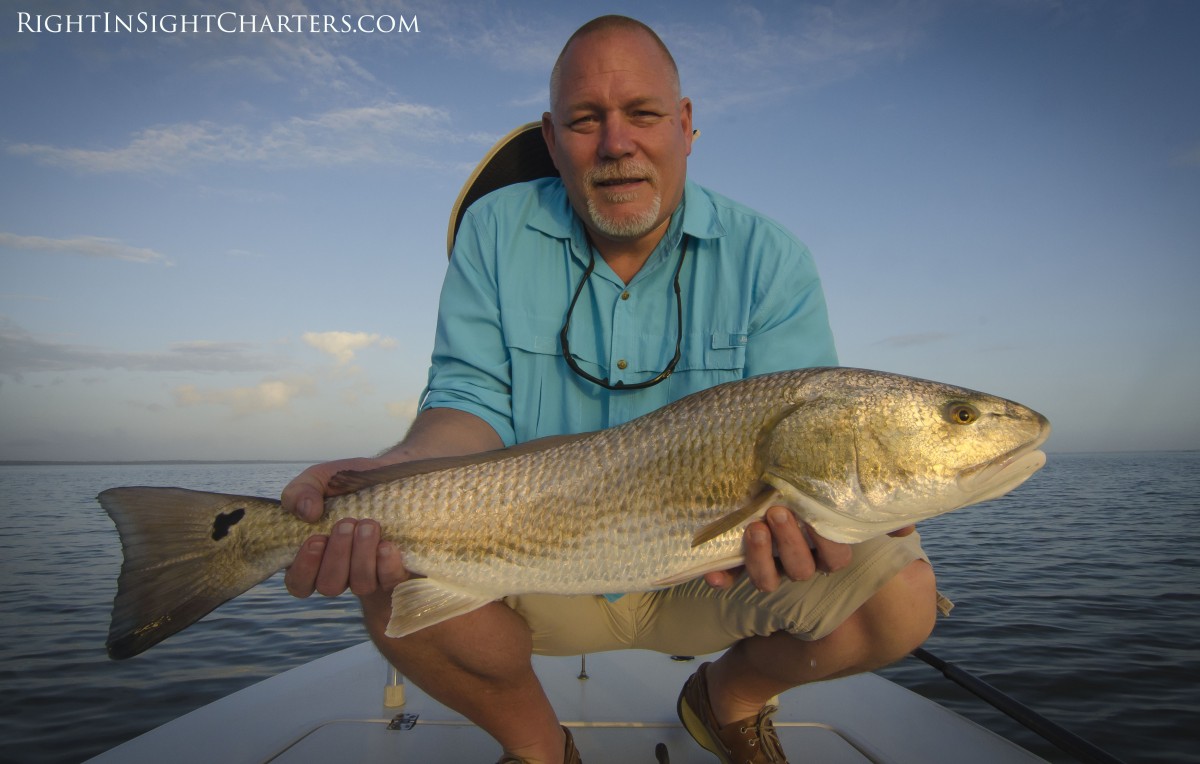 We caught one more before moving on to another flat that had scattered singles tailing and cruising. We only saw a few fish and only had one decent shot. Ron made a great shot with a DOA Lures 3″ near clear shrimp color and the fish did not hesitate.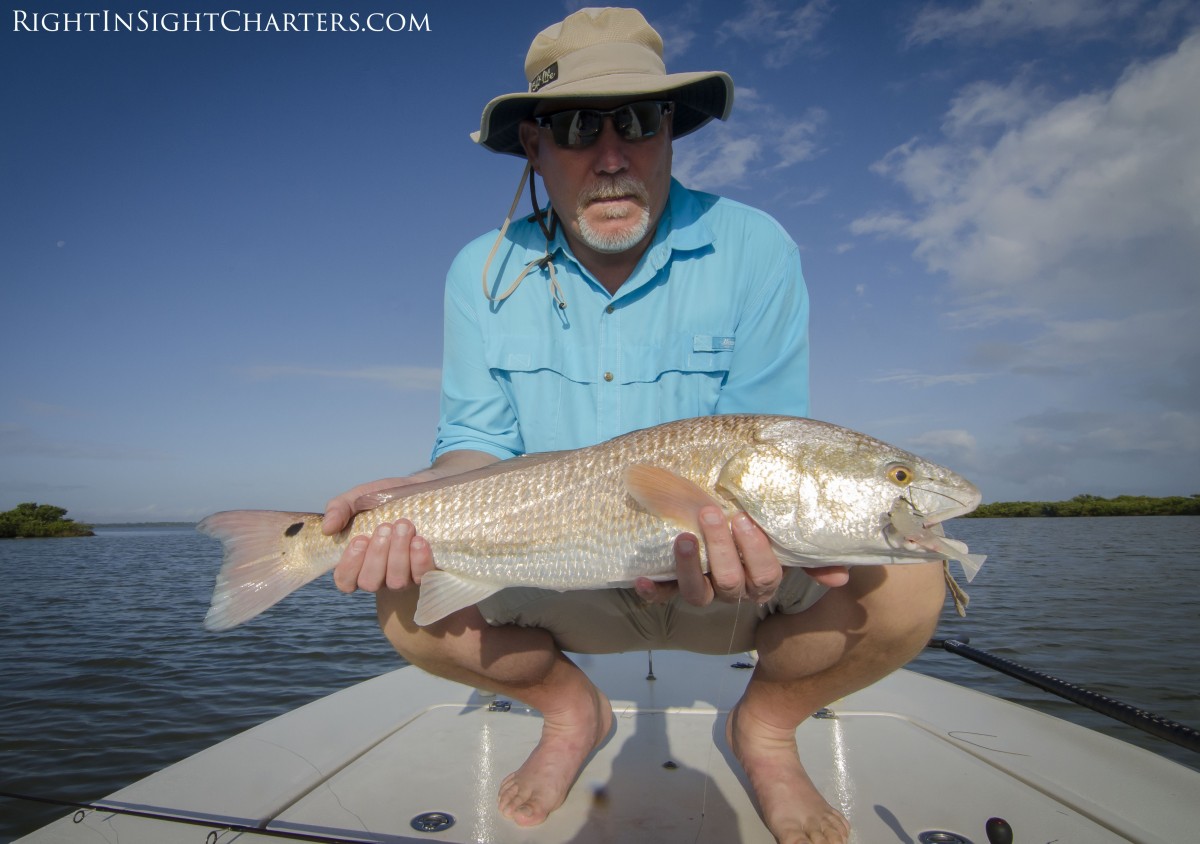 Ron really wanted to try and get a large trout so we found a bunch of mullet in a cove and it seemed very fishy so we gave it a shot. After a few moves using finger mullet we hooked into one that was pretty decent pushing 4lbs. Ron was content and we finished the trip on a good note.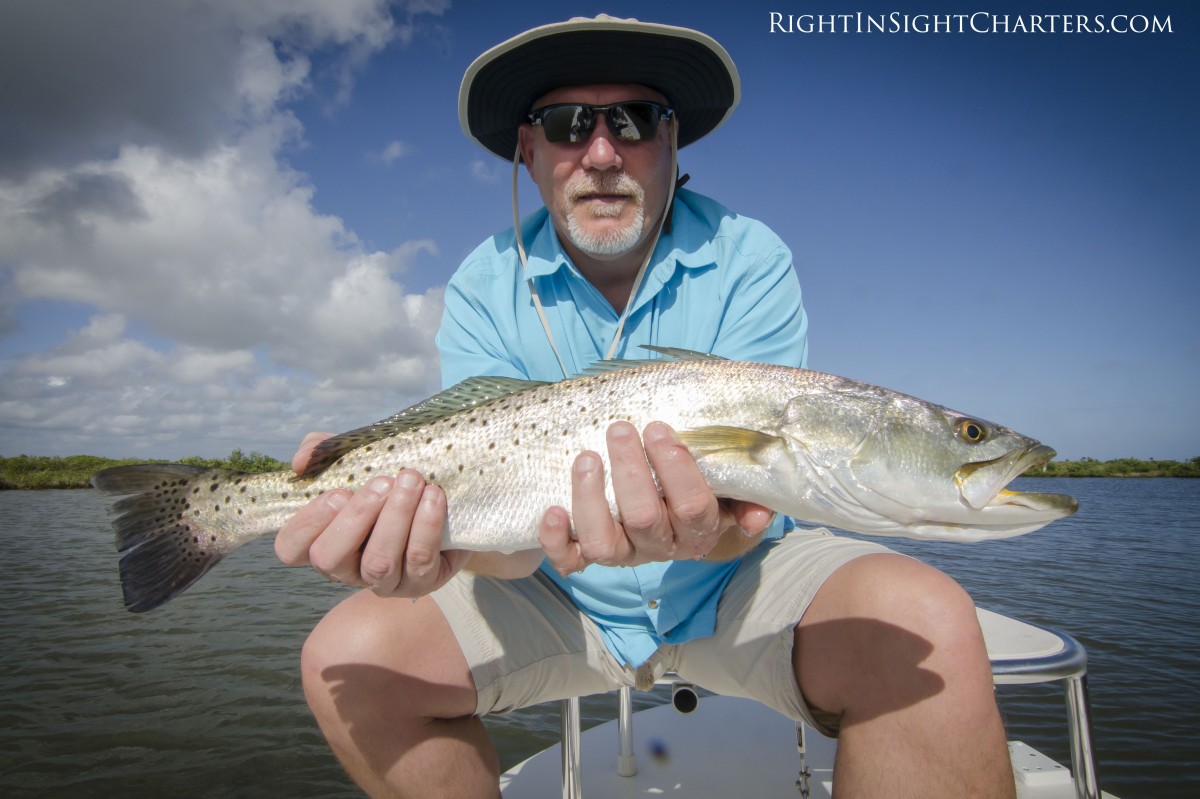 Charlie from OR joined me for a short morning trip to target redfish on fly for the first time. The weather was perfect and he was greeted with redfish tails. Charles has been fly fishing for a long time so once he knew how far to lead the fish he was hooking up. He landed two before the flat got over crowded and we had to move. Here's Charles with his first redfish on fly.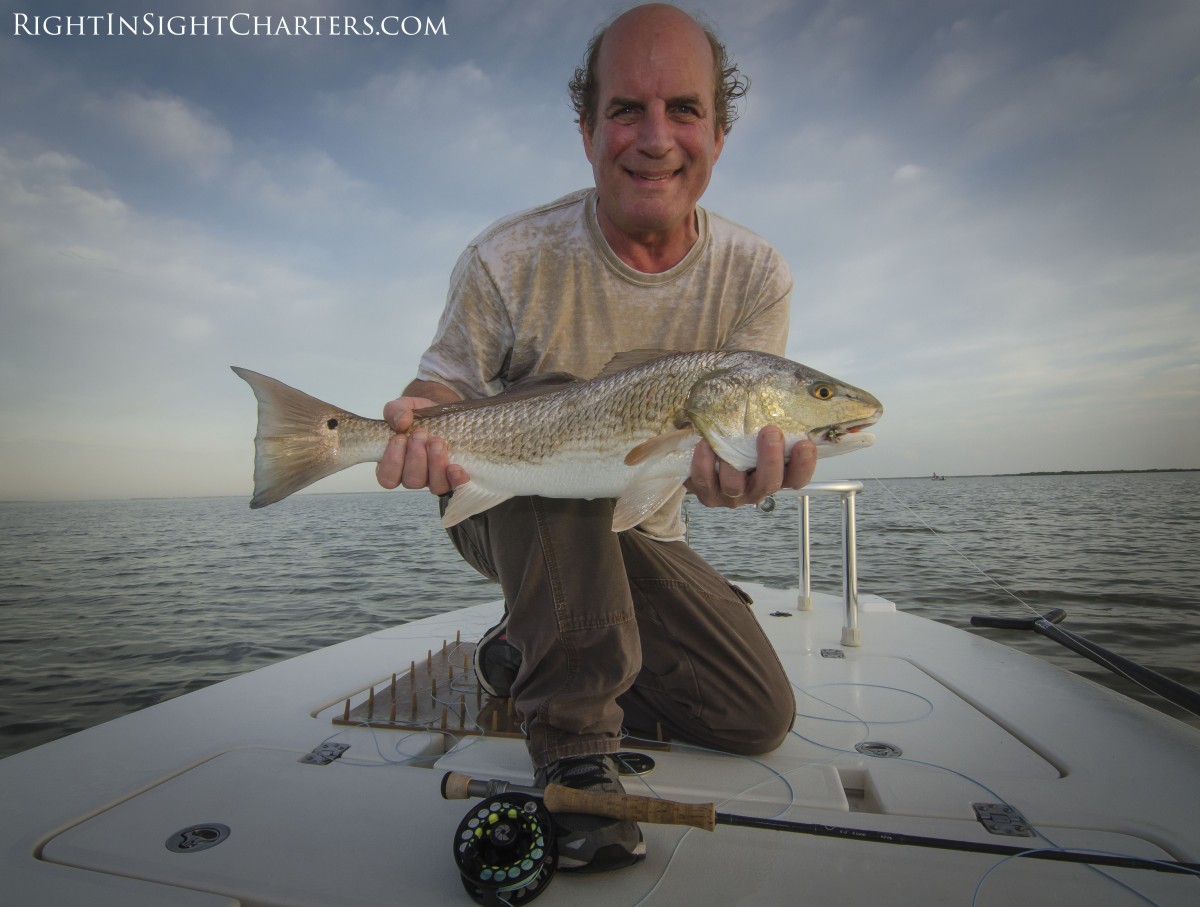 We finished out the trip on a small flat and didn't find any tailing fish but found a single redfish cruising a shore line. Once Charles made out the fish he laid down a good shot that the fish could not resist resulting in his 3rd redfish of the morning on fly. thats good on any day in my book.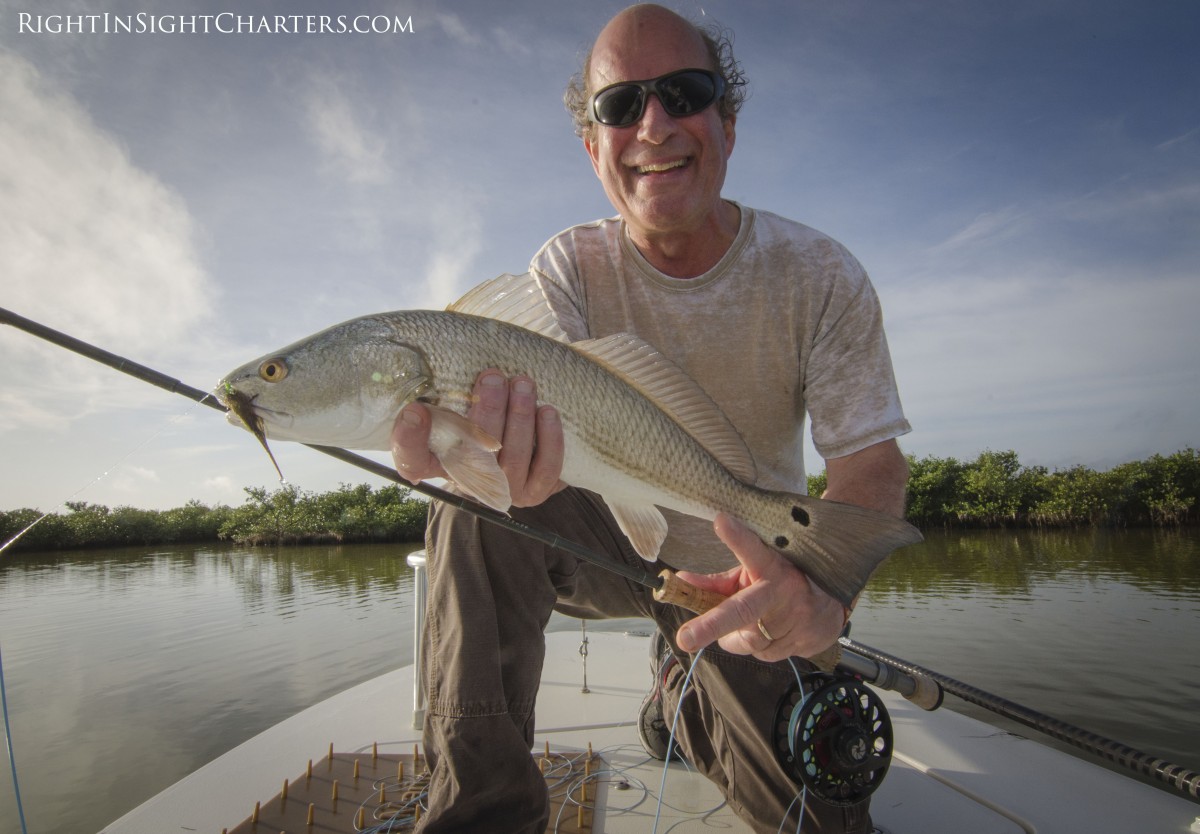 Squeezed in a fun day on the water with my buddy Casey. Light winds and sunny skies resulted in good times and bent rods. We fished a flat that had scattered fish and we were able to make a few passes on it getting hook ups on both fly and spin tackle using DOA shrimp. Here's Casey with one of his.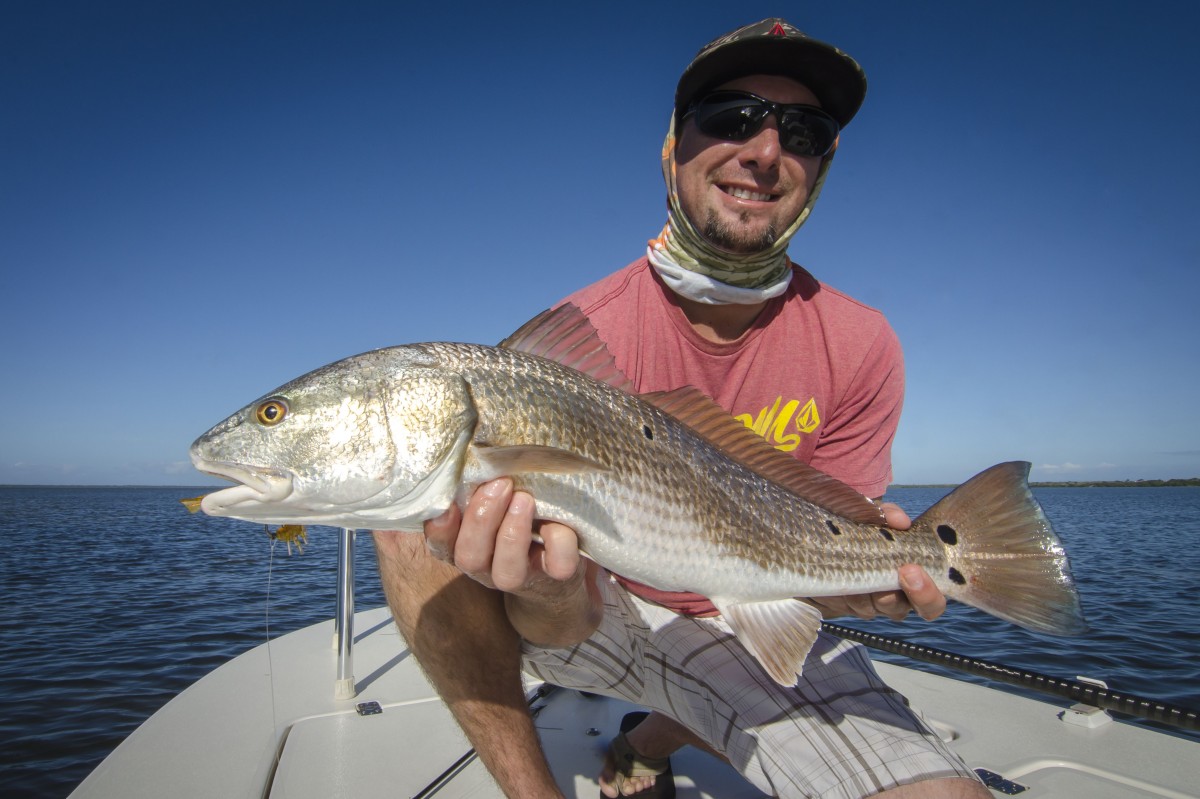 Casey poled me to two decent fish on fly and it felt good!
The year end was busy both on and off the water and I had a great 2015 year fishing with new and old clients and I look forward to a great 2016. Dates are filling up for the first portion of the year with good fishing right around the corner! Thanks everyone for a great year and can't wait to fish with you in the New Year!
Capt. Justin Price
Right In Sight Charters
Fly Fishing & Light Tackle
Mosquito Lagoon-Indian River Lagoon-New Smyrna Beach
Banana River-No Motor Zone
386-566-4687