Adventures On The East Cape Glide
Adventures in the Glide by Captain Justin Price with Jan Maizler published on June 30, 2014  by Jan Maizler and photography by Captain Justin Price
Recently I was presented with the opportunity to run and fish East Cape Skiffs' new super shallow draft model, The East Cape Glide, in the Mosquito Lagoon. Needless to say I jumped at the chance and was fortunate enough to have a few days off to put this vessel to the rigors of full-on flats and shallow water fishing.
Keeping it Simple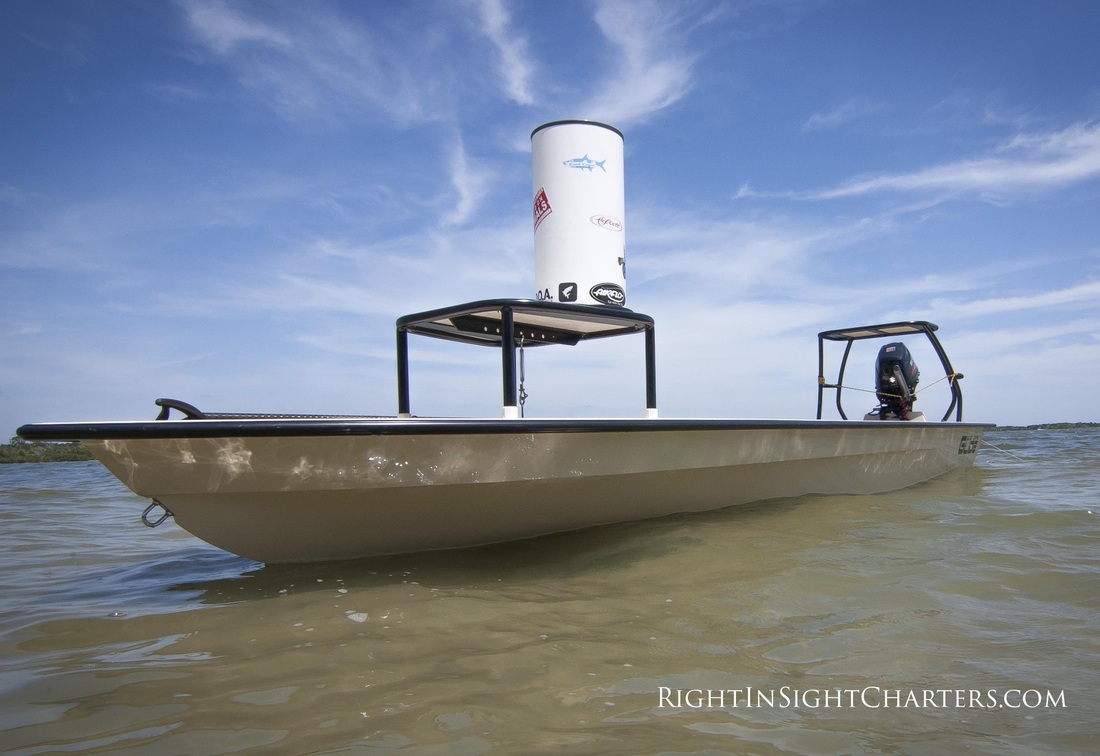 Fishing Day One
My 9 years old daughter Kailey, joined me on the first day of fishing in the northern Mosquito Lagoon. Our strategy of staying up shallow in the islands would no doubt be easy in the East Cape Glide. We set out just as the sun came up, working our way through shoal water trying our best not to encounter any manatees along the way.The first spot had some nice redfish working shorelines feeding on mullet and other small baitfish.  Kailey was on the bow casting soft plastics with hopes of a strike on any given cast. With no success there we made a move which gave me another opportunity to drive this sweet little skiff.
The water in the northern Mosquito Lagoon has been pretty low on the low tides keeping the fish concentrated in the sand holes and shallow sloughs. After a three minute run, our next spot revealed redfish and big trout tailing in the grass. I continued to push forward through the shallows to some nice sand holes where we were welcomed by a school of 75-100 mid to upper slot "happy"redfish rolling and flashing on the surface. Once Kailey saw them, she made the perfect cast, swimming a D.O.A. soft plastic on the surface right in their midst. A wad of fish charged the lure in a competitive frenzy. One "lucky" fish won the fight resulting in a bent rod and screaming drag for Kailey. After releasing the first fish, we continued to work the school and brought a few more fish to the east cape glide skiff, including myself fishing from the poling tower.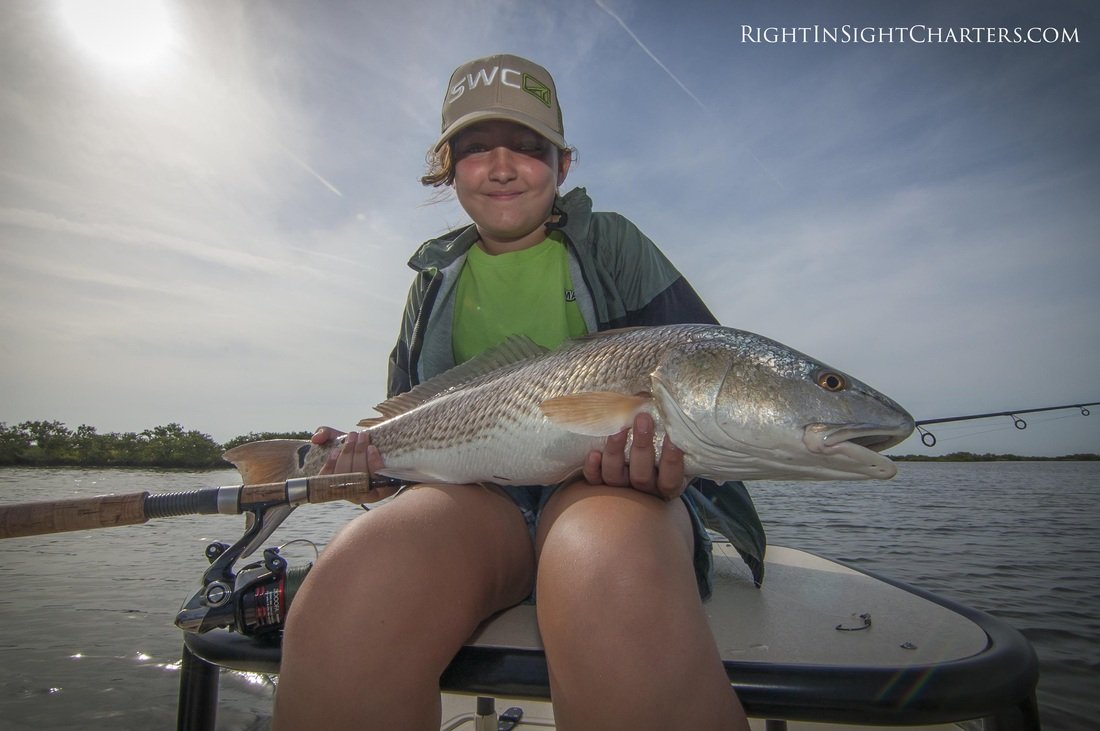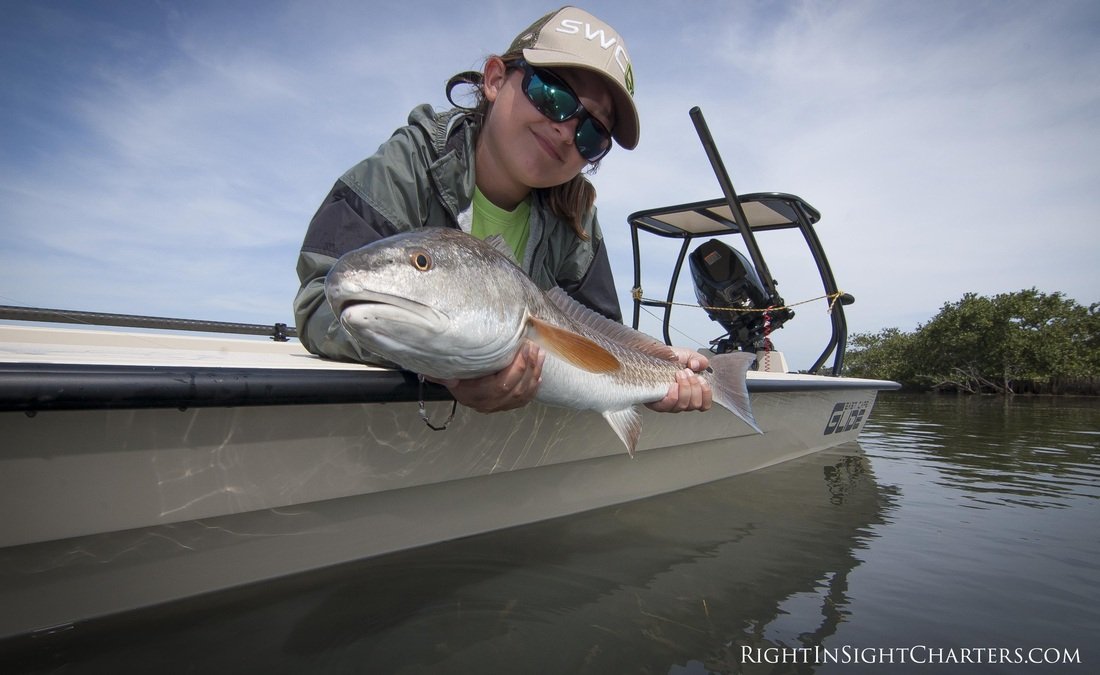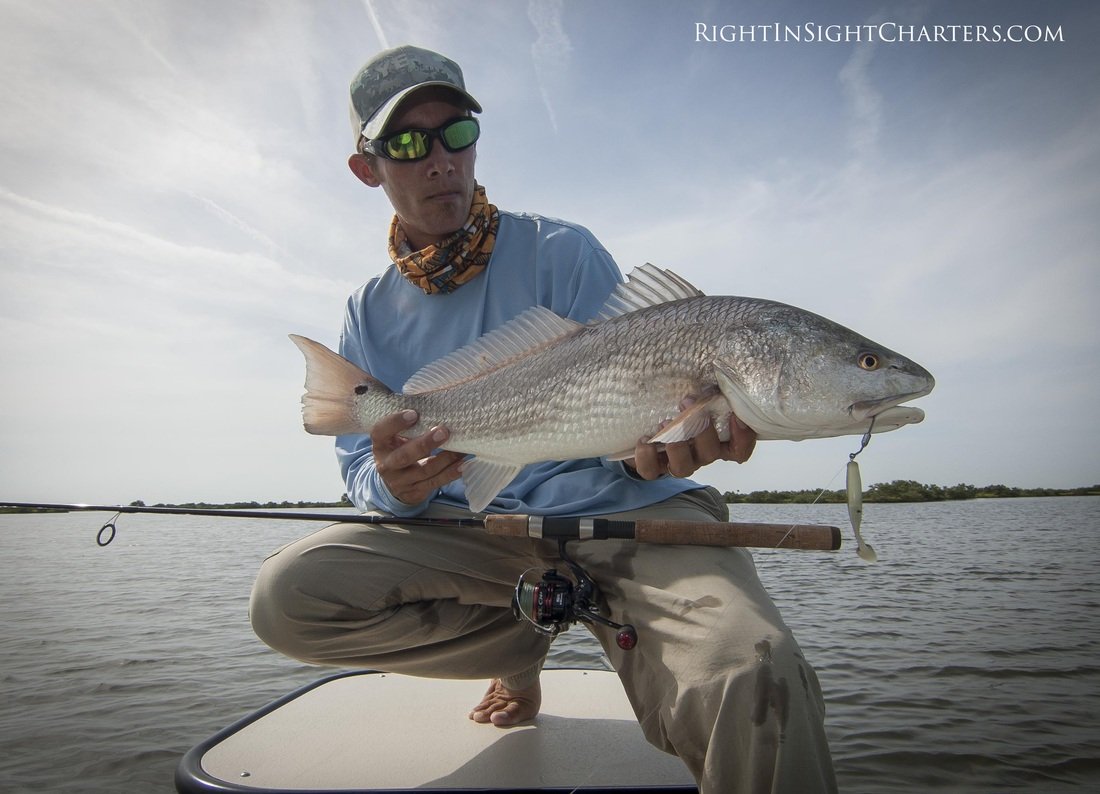 We decided to finish the morning cruising around the lagoon and taking a stop on an island which is our ritual when on the water. Our East Cape Glide was a tiller model with no bells and whistles. It was super light, powered by a 20 HP Suzuki outboard and a perfect match for the speed and weight ratio of this design.  The hole shot was remarkable; leveling the skiff out within seconds.
Fishing Day Two
Fellow guide and good friend Captain Joe Roberts joined me for the second day on the East Cape Glide. He was quite interested in experiencing this little skiff's performance.  We launched early around 5:30am from Beacon 42 in Mosquito Lagoon with just enough color in the sky to see and cross the open lagoon that was already rolling with a solid northwest wind. Surprisingly enough, crossing in the chop in "quartering" fashion, the Glide handled smoothly and we stayed completely dry.
We were only going to be out for just a few hours so we went right to where the redfish were hanging out recently.  Joe took the bow first and we started our search for some large redfish that had been tailing lately on the edges of the flat. I kept the bow into the chop as I poled looking for giant tails. Joe and I were impressed at how quiet the Glide was and how well it tracked.  After searching for a bit we had only managed to catch and release a few trout with the largest at five pounds, but there was no sign of the giant redfish.
We decided to give it a few more minutes and switched positions with me on the bow and Joe on the pole.  I grabbed my 8-weight and started to blindly work the edge in anticipation of a trout to take the fly. Joe pushed us up shallow to look for some slot size redfish while also keeping our eyes peeled on the edge for the giants.
Without success, as we started to push off the flat, Joe called out, "there they are!" Tails and backs were breaking the surface as the fish hovered in only two feet of water. While Joe gets me in position for the cast he joked that "they're not going to eat that fly. If you get one to eat not even land him, I'll buy you a six- pack of your favorite beer!"
I laughed, knowing very well how hard it is to feed a fly to our big Mosquito Lagoon redfish. What happened next surprised both of us and I'm not talking about my perfect cast. Even though I was shaking I managed to lay the fly just out in front softly and only stripped the fly twice before one of the fish ate. It pulled the line very hard from my finger tips and before I knew I was into my backing.
This is something I had not seen in a long time. We both thought for sure this battle was going to go on for a while as the fish took us off the flat and into some deeper water. Between fighting the fish and screaming with joy I turned to Joe and told him what brand of beer I wanted and how cold I would like it to be when he delivered it. We finally got our first look at the fish near the Glide, anticipating a few more runs. Surprisingly, it came up on the surface rolling over exhausted from the battle in just under ten minutes.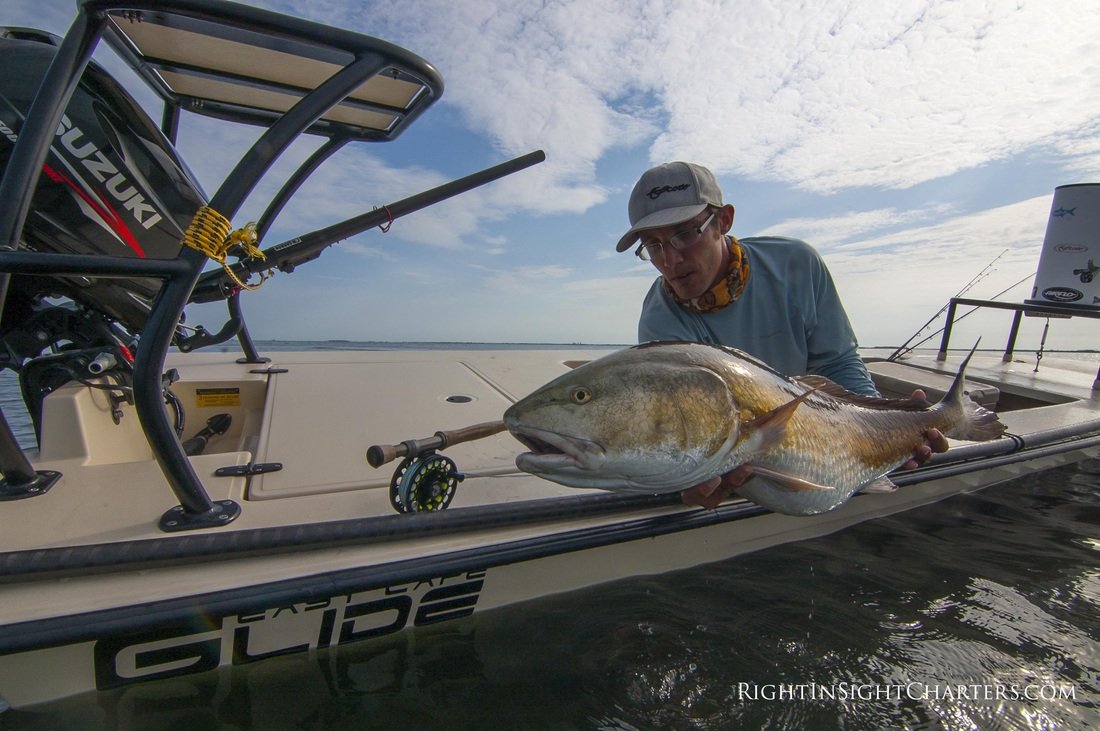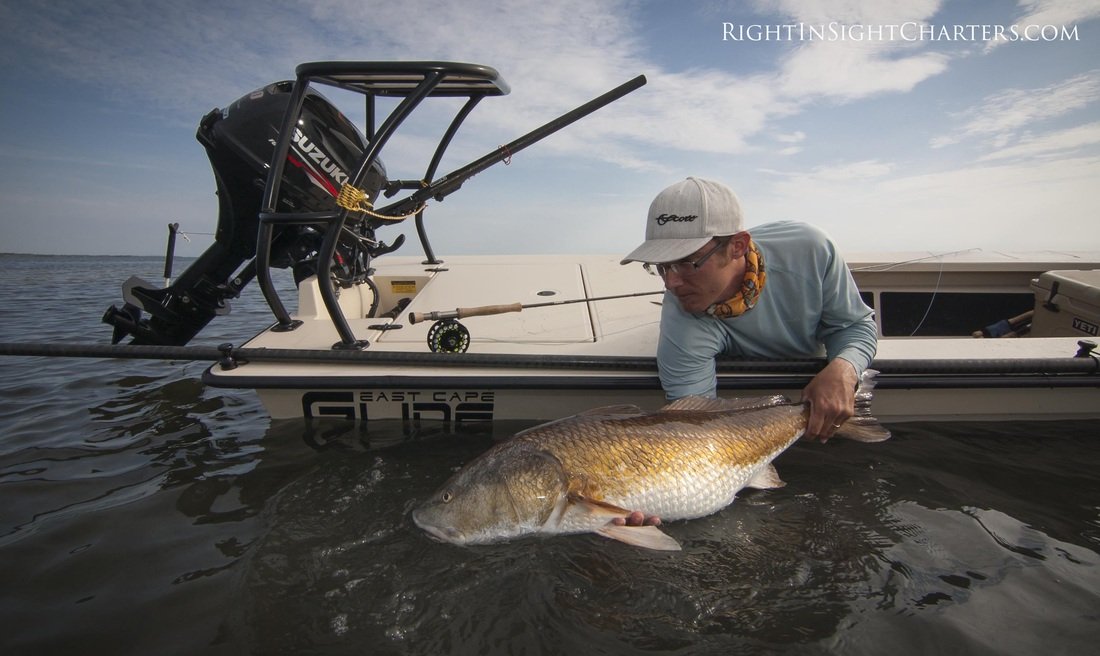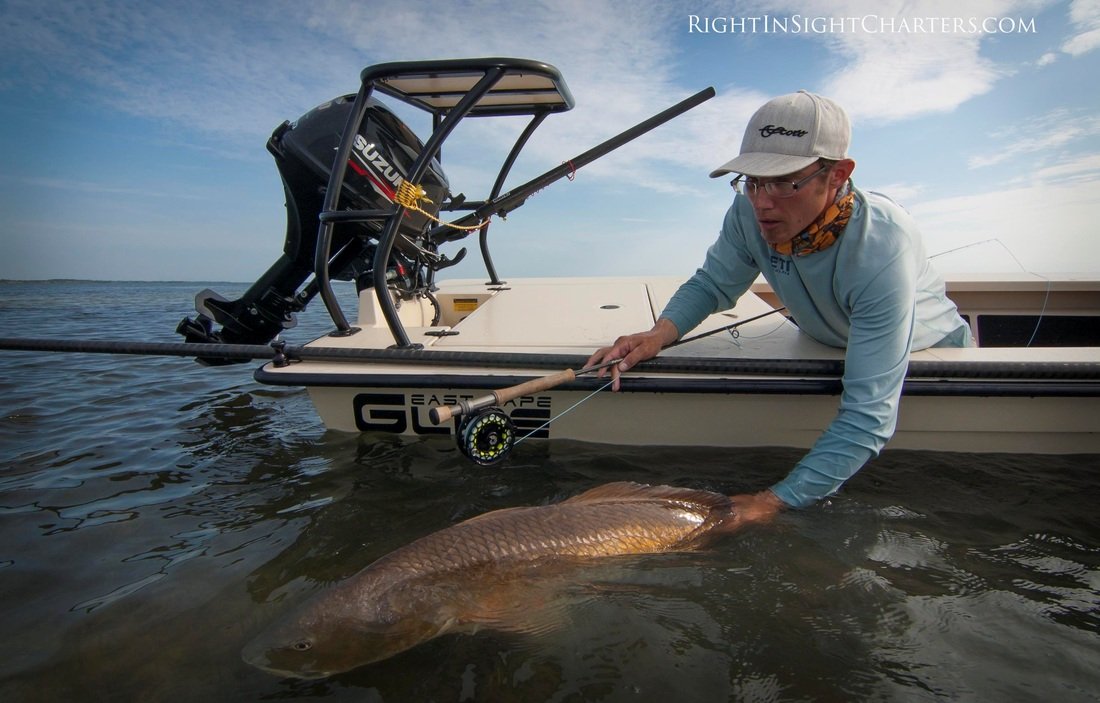 We were both overwhelmed with excitement While getting photographs and then, a quick but thorough release. That redfish is my biggest to date measuring 40" and around twenty pounds. My day was complete so I finished the morning on the poling tower pushing Joe to some shallow water tailing redfish with no success. We made our way back to the ramp just cruising and enjoying the ride in the East Cape Glide.
A Look at the East Cape Glide
The East Cape Glide is an excellent micro skiff with an overall length of 17ft and a width of 58". The model featured in the images was built with simplicity in mind with a 20 Horse Power Suzuki outboard, that sips fuel. There is a storage hatch in the front that is completely dry for personal belongings or PFD's. The rear hatch it is divided into two buckets- one for tackle or other items to be stored and the other can be a livewell.
Underneath the deck just in front of the back hatch there is open storage for easy access to tackle or a camera case. The under gunnel storage allows for six rods total with plenty of room for fly rods.
As far as performance, the Glide handles quite well in the turns. It is very dry for a skiff this size in a decent chop. The Glide planes out super quick, allowing it to jump up shallow without chewing up the bottom.  I never measured the draft but it was very impressive in just mere inches. This skiff poles really easy, quiet with the bow in the chop, and tracks great.
Most people would be concerned about how tippy the skiff may be but in my opinion its not bad at all considering the size of the skiff. I guide and fish from a canoe as well as my East Cape Lostmen. I stand and pole my canoe around without a problem so making the adjustment to the East Cape Glide was not an issue for me at all.
All in all it's a great skiff and priced well too, with endless options available. Where I fish in the Mosquito Lagoon located in East Central Florida this is a perfect two man skiff for our area or others areas in the country where a shallow drafting micro technical skiff is needed. Whether you're a recreational angler who likes to fish solo or with a second angler or if you're a guide in need of a second boat for those days you have a single client you need to check out this sweet little skiff.  You will be impressed!
CONTACT DATA
East Cape Skiffs
East Cape Skiffs
+1(407)658-7933